It's All Coming Together June 9, 2012
It's All Coming Together June 9, 2012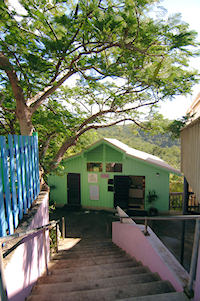 We decided in January 2011 that we were going to move to STJ. After visiting the island sometimes twice a year since 1999 we wanted a change. We have four children, three of them are adults and are doing their own thing. We also have a seven year old son. We are in our mid 40's and we are really sick of New England winters and my husband's construction business has been hit hard by the economy. The timing couldn't be better to do this, so here we go!
It has taken a lot of planning but everything has come together over the last month. The most important thing we needed to do was get Shane enrolled in school. He will be attending the Gifft Hill School in September. We started this process last September preparing his application, then visiting the school in January. We loved the very nurturing environment at the school. On our visit, Shane took his placement test and we got word in May that his application was accepted!
Next, we needed to find a house. We wanted a house, not an apartment and it wasn't easy finding something to meet our criteria. I searched every online issue of the St. John Tradewinds News, virgin island craigslist, spoke with Scenic Properties and had a few people on island looking out for us. There were very few listings that came up that caught my eye and I was beginning to get frustrated. I was in Atlanta visiting my daughter when an ad came up on craigslist. I read it and got really excited. Here is the ad...
FULLY FURNISHED 3 BEDROOM/ 2 FULL BATH w/ Roman Shower and Jacuzzi Bathtub, Central A/C , Vaulted cypress ceiling, Stone Floors, Modern Kitchen, Large cisterns, Mature Landscape w/ green grass, Well water, Large covered patio, Treehouse, WALK TO BEACHES. ride bicycles, work on your chip shots, make guavaberry rum, grow your own food. ENCHANTING PLACE. Built in 2004. Available After Mid July.
I called my husband Matt to tell him about it and he thought it sounded like a scam! (Beware scammer's are crazy busy on the virgin islands craigslist too--the best one was a post for a STJ apartment with a description of being "close to the interstate") So I was bummed and I didn't give it any further thought. I guess Jacuzzi bathtub, Central AC, well water, riding bikes and working on your chip shot might lead someone to believe that it wasn't a real post. Special thanks to puddlejumper from the forum who about one week later gave us a heads up! It is real and it is ours!