I want to thank Anthony for allowing me to tell my story of our move. I am continuing this on an open facebook page called Julie's living on St. John I don't have an actual computer here on island so posting to this blog has been a bit difficult from my phone. If some one could post the actual url for me that would be great! Thanks! Julie
Go Red Sox!!!
After a rather difficult reentry, we are all back on track. Shane has settled in nicely at school and has started ethnic drumming lessons and stomp classes at the St. John School of the Arts. Matt has a couple of estimates out and should be starting a new job soon. We are looking for a boat, we have one up North and would love to spend more time on the water here. If you hear of one for sale, let us know!

The mosquito's suck so bad right now. We had to leave the beach early today because these little sucker's were relentless. They even followed us into the water where they dive bombed our faces. Little con jellies (this is what the kids call them) were there to sting us when we got in the water ... great beach day! Then, we got into the open jeep to find 100's of mosquito's swarming... I've never seen anything like it.
Musta rained 10 days ago. Ugh!!!
Yes, even paradise has its shares of awful weeks. We just endured ours and hope that tomorrow will be a better day. It all started last week when we returned to a house with no power, mold and water that smelled like the bathrooms at Hawksnest. We changed the filters- all three filters, there was only one filter installed for the entire first year we were here. Ugh!
Then the battery in my car was dead, luckily were under our one year purchase date and Caravan gave us a brand new battery. On Tuesday, Shane became ill. He probably caught something on our flight. It was the worst I've ever seen him, he slept for over 24 hours straight. I had to wake him up to give him water, medicine and chicken broth..he was completely out of it with a fever and throwing up and body aches. Unfortunately, he missed school on Wednesday, Thursday and again on Friday.
We woke up Saturday morning and went for a walk while Shane rode his bike. When we got back, I was next to get the dreaded bug-- down for the count until Sunday morning when Matt woke up sick!
Today, we took Shane to school for his first day, fourth really but who's counting and we headed to STT because we haven't stocked up since we returned. As we backed on to the car barge and put the car in park, my car with my brand new battery dies. Nothing..just dead. So we look over and a guy in his truck, who was just about to sit back, relax and read the newspaper on the 25 minute ride to STT. He jumped out of his car and asked one of the barge employees to grab the battery charger (good to know they have one) and charged us all the way to St. Thomas. This gentleman called a guy he knew over there, gave us the number of a wrecker on STT, and told us we needed an alternator. I called the Toyota dealership for a new alternator but they didn't have one. Alan from St. John Ice and Water went above and beyond for us. We are so thankful! He is a great guy!
We called my friend Dave at Caravan/car quest and he had the right part! So we got off the ferry and got right back on and headed back to STJ. Our car made it to Caravan and Barry installed it in less than an hour! Big shout out to Dave and Barry!
Oh, I forget to mention my broken toe, our tenants in Mass who want out of their lease (because they found a house they just fell in love with)(saying that in the most sarcastic way possible) and the job Matt was hoping to finish isn't getting finished anytime soon.
On a lighter note,I neglected to mention that the girl on the car barge didn't charge us for the return trip. That was so nice! We must have looked really pathetic or maybe I looked like I was about to have a nervous breakdown. All and all, when we look back on everything that happened this week I will remember all the amazing people that helped us out, friends that had our backs, asking if we needed anything, offering us a place to stay when we had no power, strangers going above and beyond just because.
That is what this island is all about! The people make this island what it is!
I/we are keeping a positive attitude. Everything happens for a reason, I'll let you know what that is when I figure it out. Peace :)

Got back yesterday to find our power was shut off. It was my fault because I didn't pay the bill on time. Ugh! It was really hot in the house but my two battery operated fans worked like a charm. They are a definite must have for living here. Before we left we bought a case of bleach and cut the tops off and left one in every room of the house for mold. I think it worked pretty well but we still have mold inside the cabinets all over the leather headboard and on the arms of the chairs. Everything smells funky since it was closed up for so long. We only found four dead cockroaches :) Our cistern water smells like the bathrooms at Hawksnest so we poured bleach in there and let it run for a while. Our cars started right up! We disconnected the batteries and waxed them up and left them in our garage. We also put a bar of Irish Spring in each of them which is supposed to keep the critters out. Shane starts school in the morning so i plan on spending the day cleaning everything in the cabinets once this water smells better. It's been really nice seeing friends and catching up, we went to Hawksnest after we did yard work today. I brought back a slip and slide which the kids had a blast on. The water is just right:) It's good to be home!!
with Tahoe Dave (from the Beach Bar) and Kate from Island Massage Company this week. They stayed with us for a couple of nights here on the Cape while they are driving around the East Coast selling their awesome products they make on STJ! You may not recognize Dave since they are all prepped out. Kate told me that they soon realized they needed to look the part and our STJ style wasn't going to cut it up here in New England. So here is the new Dave in his plaid shorts and a polo shirt. Clean shaven and a fresh new haircut by me! Kate has been spotted wearing a pink skirt :)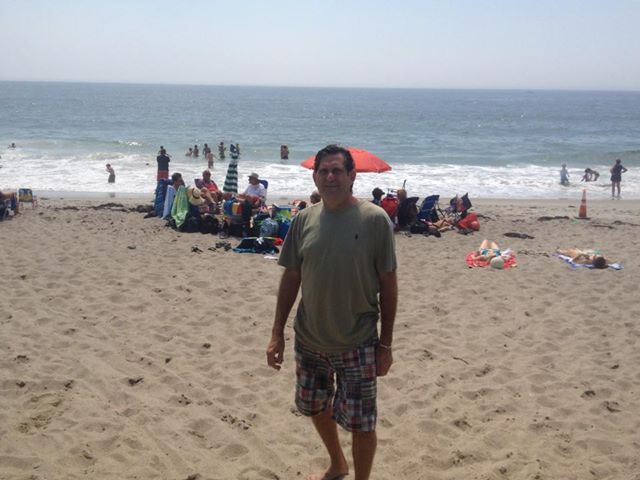 They bought a conversion van in PA and have been traveling since the beginning of June with their two dogs Felix and Owen. Kate is a conservative biologist who used to work at Coral World on STT and is hoping to catch up with one of the world's leading shark experts and frequent STJ visitor Dr. Greg Skomal who happens to be a friend of hers. He is in the area tagging sharks and she contacted him to possibly help out.
Kate told me of all the places she has been to so far Cape Cod has had the friendliest people and the prettiest place she has seen so far? The conservation marsh area behind my house! They will be coming back to stay with us after a trip out to Provincetown. We took them on a sunset boat ride on Nantucket Sound, and Shane's been taking them on bike tours of the area.
Dave is a really great Massage Therapist and he is trying to get some work while he tours the Eastern seaboard. He'll be on the Cape for about a week then to CT and NY, PA and beyond. If you want a massage he will go to your house-- email him at david@islandmassagevi.com to set something up!
Their website is www.islandmassagecompany.com
Check out their new wheels- it only get 7 miles per gallon!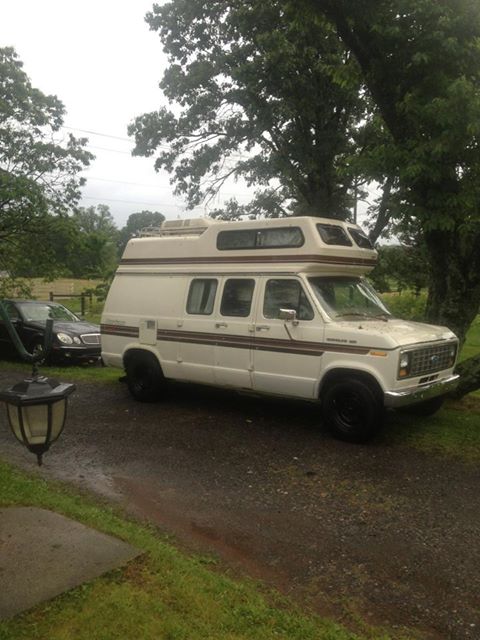 We ran into a bar the other night to escape the rain on the Cape and look what was on the wall.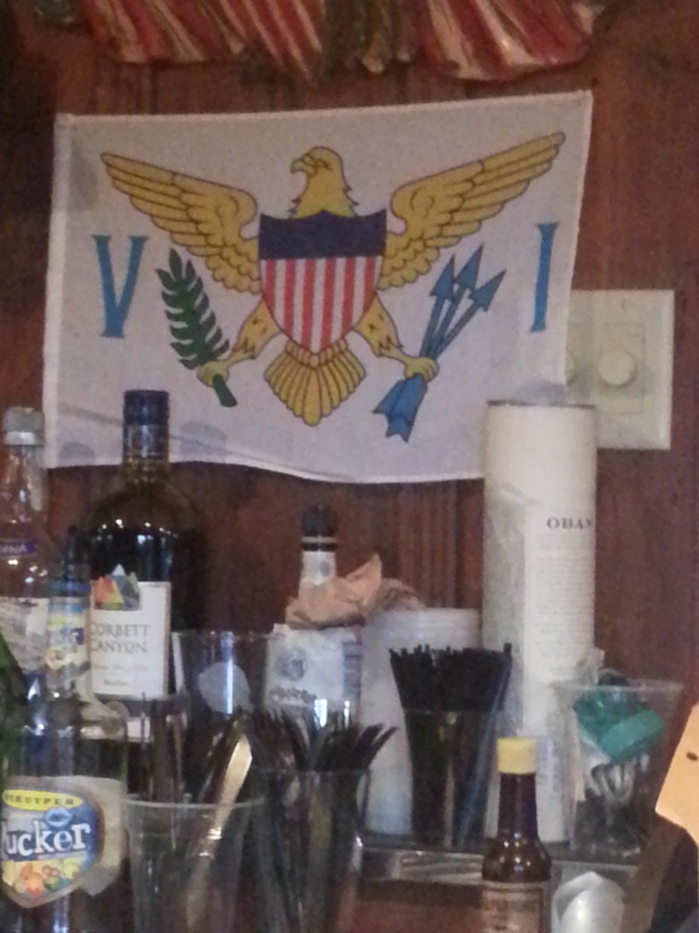 I had never been to the Sandbar in West Dennis before but apparently someone from the VI has. I asked the bartender and she had no idea who put the flag up so I posted the pic on my FB page and "Ted the Crabmon" said that Dick Solberg must have played there. Very cool!
My friends call me "the fruit killer". I don't really care for fruit unless it is soaked in rum or in a drink. So I saw a new, amazing way to kill the fruit on Pinterest and of course I had to give it a try!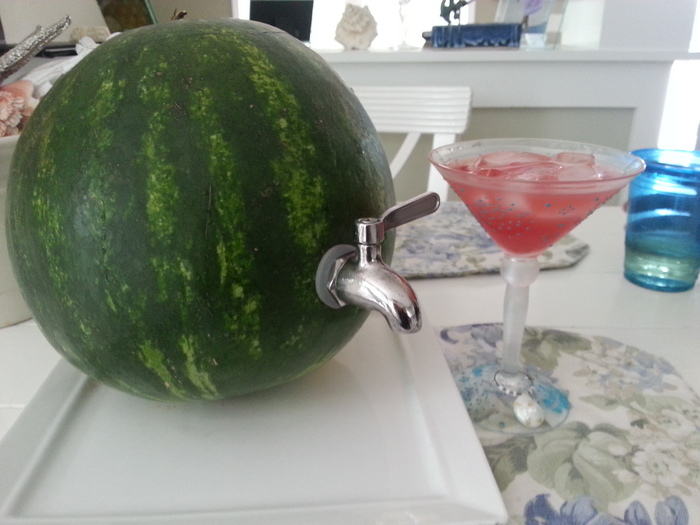 Directions: Find the "right" spot on the watermelon where it sits just right. Cut the top off like you would a pumpkin (large enough for your hand to fit in) take out all of the watermelon and put it through the blender then strain it. Set aside. Carefully, drill a hole in the watermelon a little smaller than the size of your faucet, place a washer, we used the top of a Florida's Natural Orange Juice Container and then screw on the other end. It is actually really sturdy and lasts for a couple of days. Add vodka or rum, we used Tito's Vodka to taste. Delish!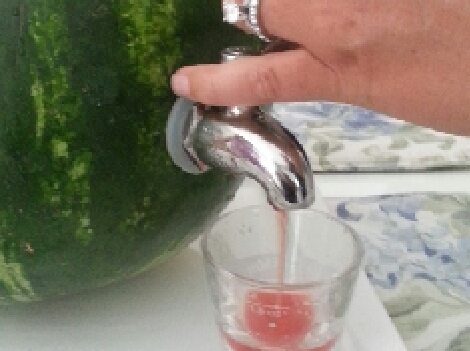 I decided to take her on a field trip to see my friends (who loved her by the way!)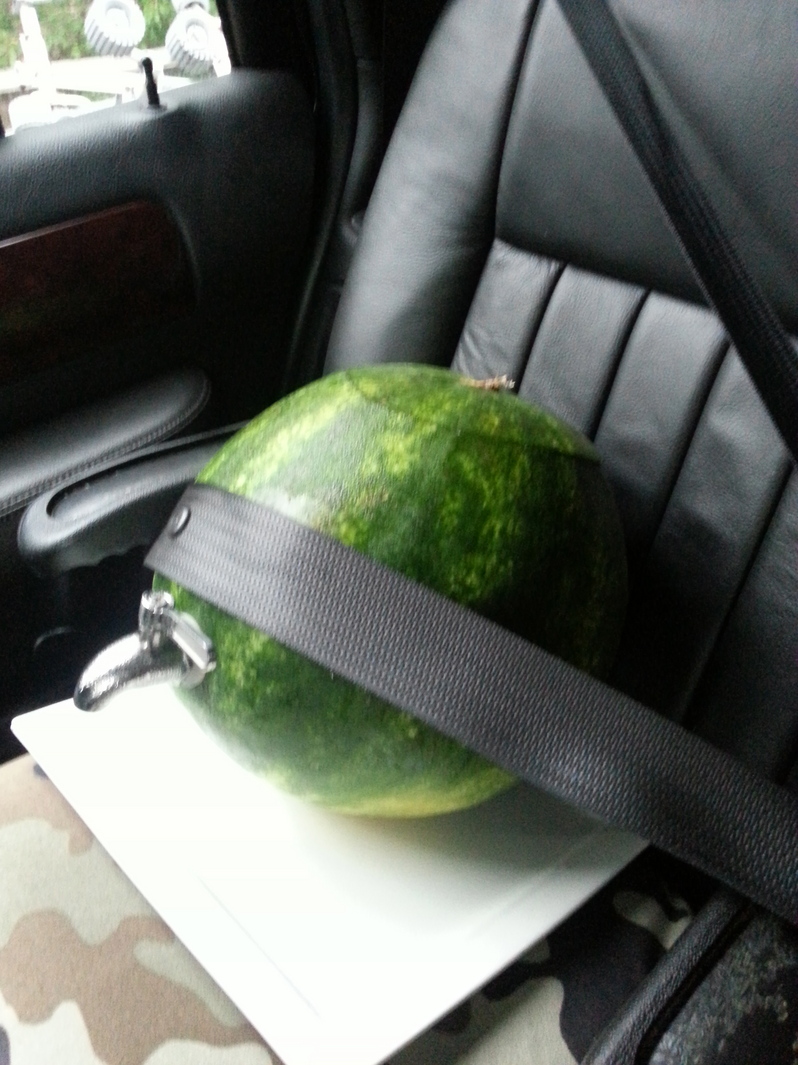 She got to visit the boats in the harbor!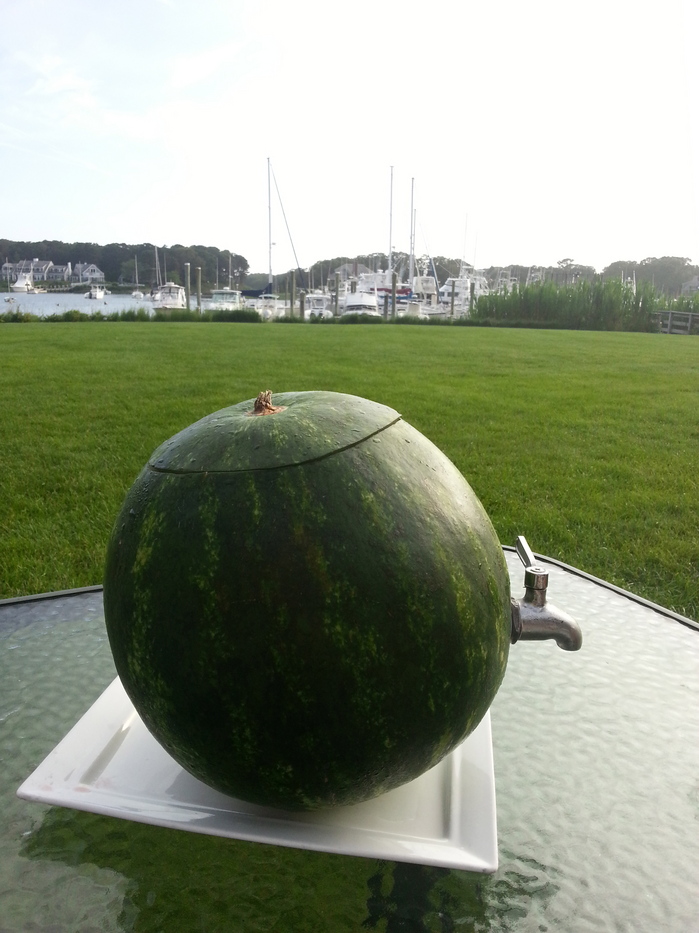 Too bad watermelon's are so darn expensive on STJ! I'll bring the faucet back just in case they have a sale :)
Matt has been building a prefab hurricane proof home here in Fish Bay. Here are a few pictures of what he has done so far. The people are not living in the house just yet. It still needs some electrical, plumbing, a metal roof, kitchens and baths, cisterns and a septic system. As you can see the bedrooms are finished, boarded the rooms with a concrete wall board, installed the tile floors, and painted.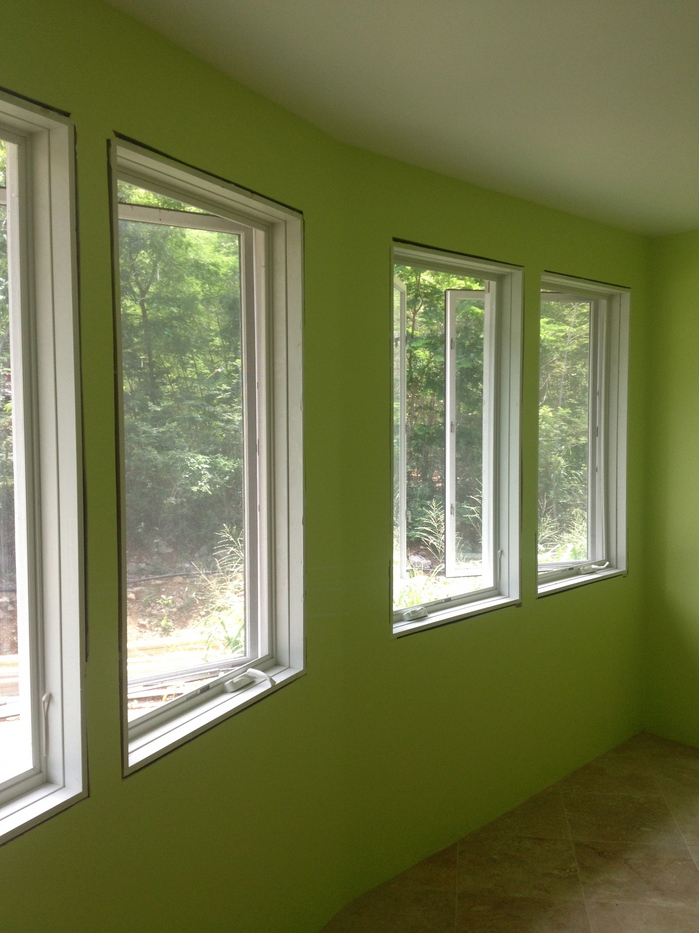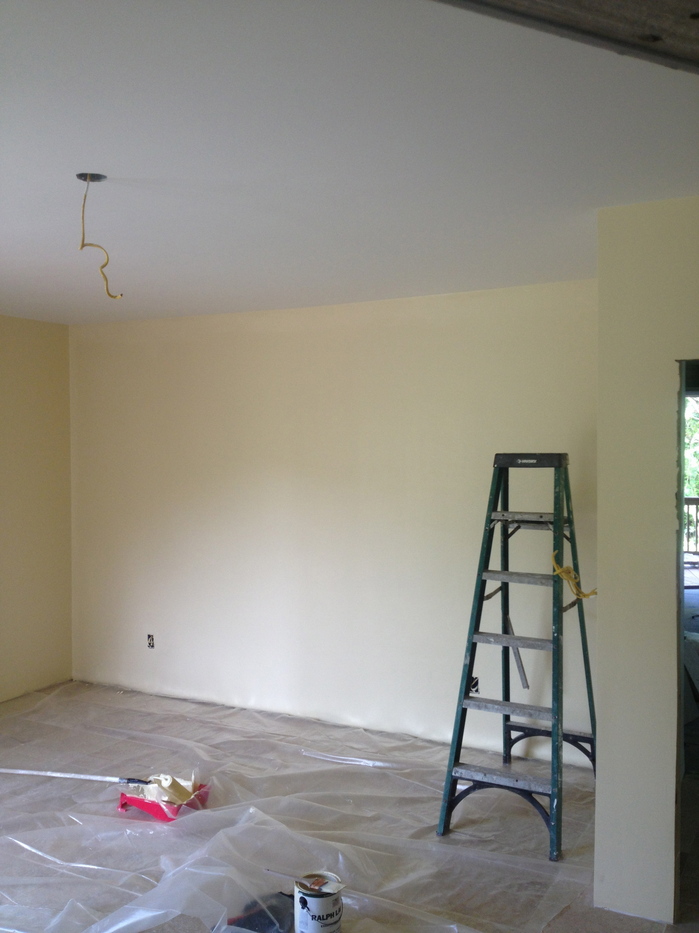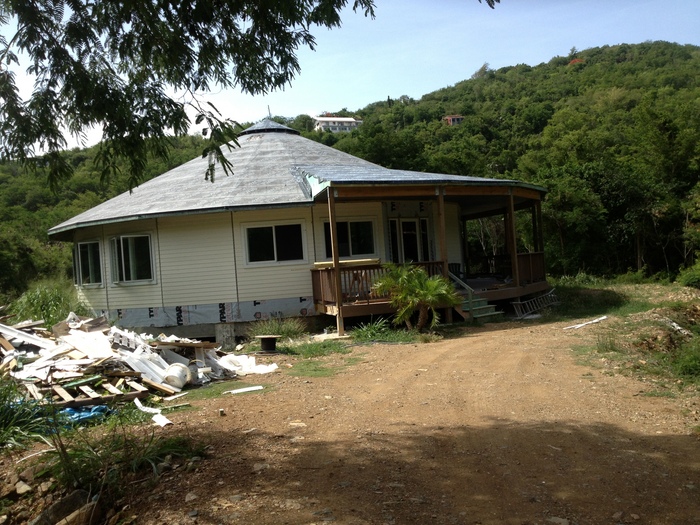 Downside to building on STJ. One lumber yard with hardly any stock. He went up to Paradise one day looking for some interior trim and they didn't have any. They actually handed him one piece of paper with their entire wood inventory on it. Crazy!!
I am back in the states for a bit and have realized how much I didn't miss sitting in traffic.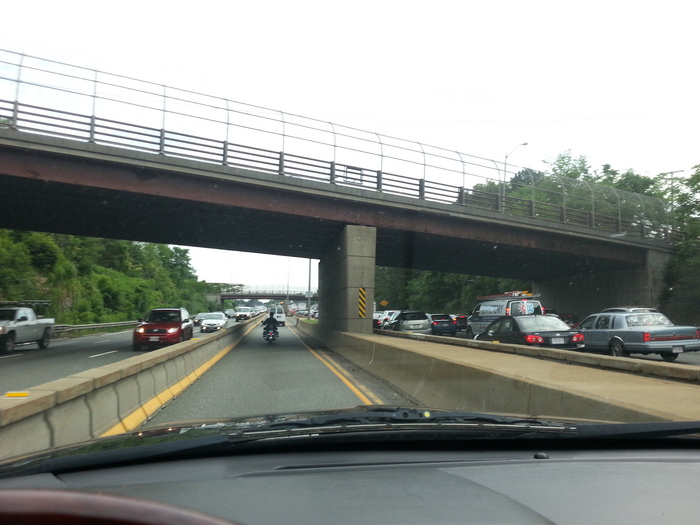 It took me a week to actually drive my car I was nervous that I would drive on the wrong side and I have-- TWICE! However, I am enjoying my family, fresh produce, long, hot showers and paying $2.99 for a gallon of milk!