Cleaning House June 10, 2012
Cleaning House June 10, 2012
We leased the house on STJ until next June. It actually works out perfectly because the homeowner has two small children and is moving stateside but she wants to return for the summer with her children. We want to return to Cape Cod next summer so it was a win/win for everyone! We can renew the lease if we choose too.

We decided to lease out our home North of Boston. I am a licensed realtor (just not working in real estate) and I took pictures of the house, added a great description, put it on Boston.com and guess what? I leased my house in one day for $100 over my asking price :) The family is from San Diego and the wife is being transferred to Cambridge going to work at a biotech company. They have two small children and their lease starts July 15th. Another box checked off the long to do list.
Since January, we have been trying to organize everything in different rooms of the house. We have the" taking to STJ" stuff which I have boxed (thank you BJ's wholesale club for your free boxes!) wrapped with shipping paper, numbered and logged every item that is in the box. I have been taking these to the Cape where I will ship them parcel post on July 23rd which is five weeks prior to our arrival date.
We also had the yard sale pile which took up entire basement. Thankfully, we had a great turnout this weekend at our yard sale and I sold a lot of stuff. I can write an entire post on the yard sale. I met some very interesting people! One bad move on my part, I sold my son's razor scooter! He wasn't very happy with me :( he called my daughter crying :(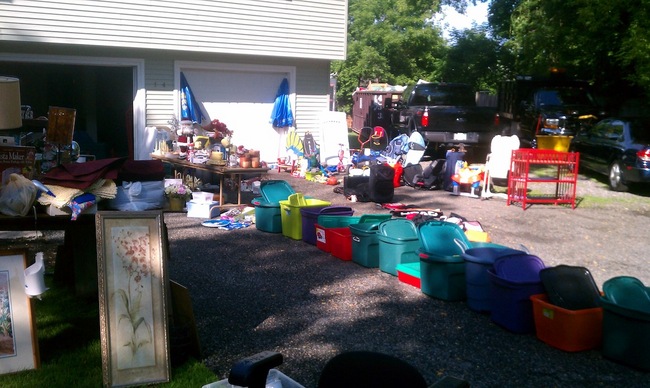 Last week my husband rented a 30 yard dumpster which is now completely full. I'm beginning to think my husband is a hoarder. He's been accumulating construction moldings, insulation, windows, balusters, hardwood flooring etc. for 25 years and it has taken up an entire bay in the garage. He sold a lot of things on craigslist but most of it got tossed. We negotiated the use of a fenced in area in our yard and Matt is going to build a shed (with all left over material) so we can leave his construction equipment here.
All of our furniture has been sold. I listed it on craigslist and the phone was ringing almost instantly. It has been a crazy week at our house!