Blue Guitar
Last night we went on a sunset power boat ride aboard the Bad Kitty and we saw Eric Clapton's boat the Blue Guitar parked right outside of Cruz Bay. I grabbed this picture off the internet since the picture I took wasn't so great.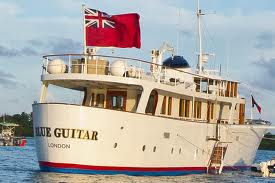 I believe he comes here often because I remember a friend said he saw him jogging in town last year.

The sunset sail was really nice it went to Lovango and over towards STT to the South Shore of STJ a bit and back to the National Park Dock. I highly recommend Bad Kitty and Calypso.
Here are some more pictures of the sail.