Eureka Villa Reviews <! -- Author Stuff -->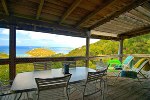 At Eureka Villa, the large, central living area is flanked by master bedrooms at each end. Each bedroom opens to the deck. There is almost always a refreshing breeze throughout the house, and the fully-equipped kitchen looks out over the flower-filled courtyard. When the large glass doors are retracted, the living room opens fully to the courtyard and deck.
You can rent Eureka Villa from
Caribe Havens
.