Amarilla Villa Villa Reviews <! -- Author Stuff -->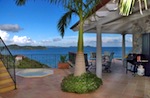 Coral Bay is home to Amarilla Villa, a large home with three bedrooms and three and a half baths - great for family retreats or multiple couples traveling together. The villa has a wide range of amenities, including a pool and spa.
You can rent Amarilla Villa from
Villa Fish
.