Magens Bay Beach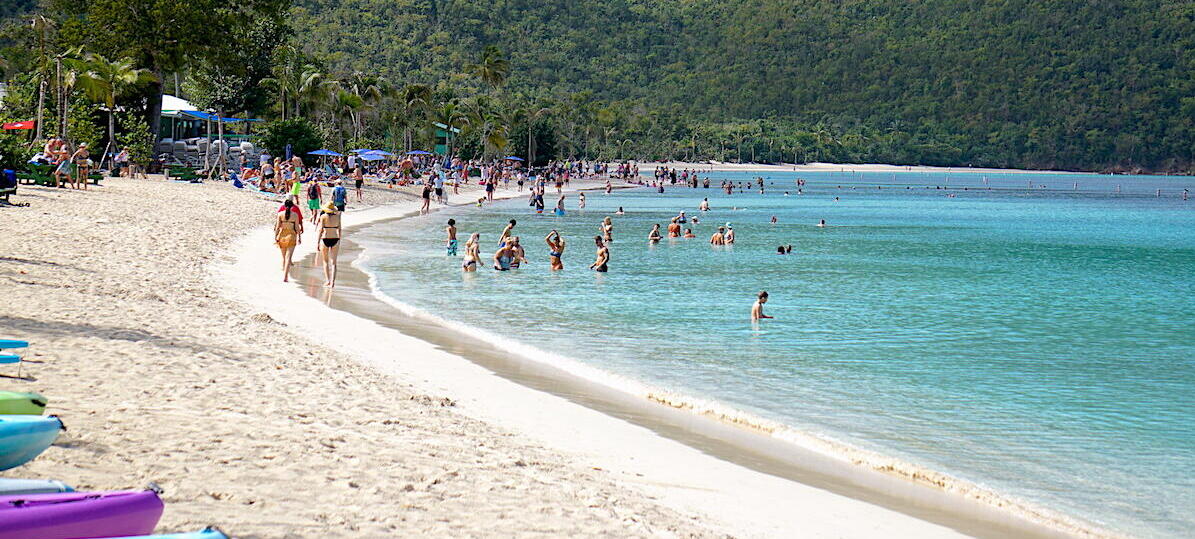 Magens Bay is one of the most famous beaches in the Caribbean and is frequently noted as a top beach of the world in tourist publications. It is a nearly mile long soft curve of white sand and sparkling turquoise water with very gentle surf. The beach can be very crowded with tourists in season, especially day trippers from cruise ships, but it can also be very quiet in the early mornings and late afternoons, or if there are no cruise ships at harbor.
There are plenty of amenities at the entrance end of the beach – you can find a bar and a restaurant – and also rent kayaks and other water sports gear. Roughly in the middle of the the beach there are pavilions which residents use to host parties, and some more vegetation to provide shade, as well as picnic tables and a second area of bathrooms and showers. The very western end of the beach is unguarded and there is scant sun protection.
It is also a surprisingly good snorkeling spot – especially for beginners. At the very eastern end of the beach there are smooth boulders and the water is shallow and teeming with small sea creatures around the rocks, while at the far end you can snorkel along steeper rocks and get into fairly deep water where larger marine life, sea fans, and coral can be spotted (not for the inexperienced!). If you are comfortable in deep water you can go straight out from the middle of the beach and maybe see some giant tarpon in a school of silver fish (I have!).
There is a fee to enter Magens Bay Beach, check the authority website for up to date information.
The concession stand also has a good Instagram account, icon linked below.