Christiansted Historic Walking Tour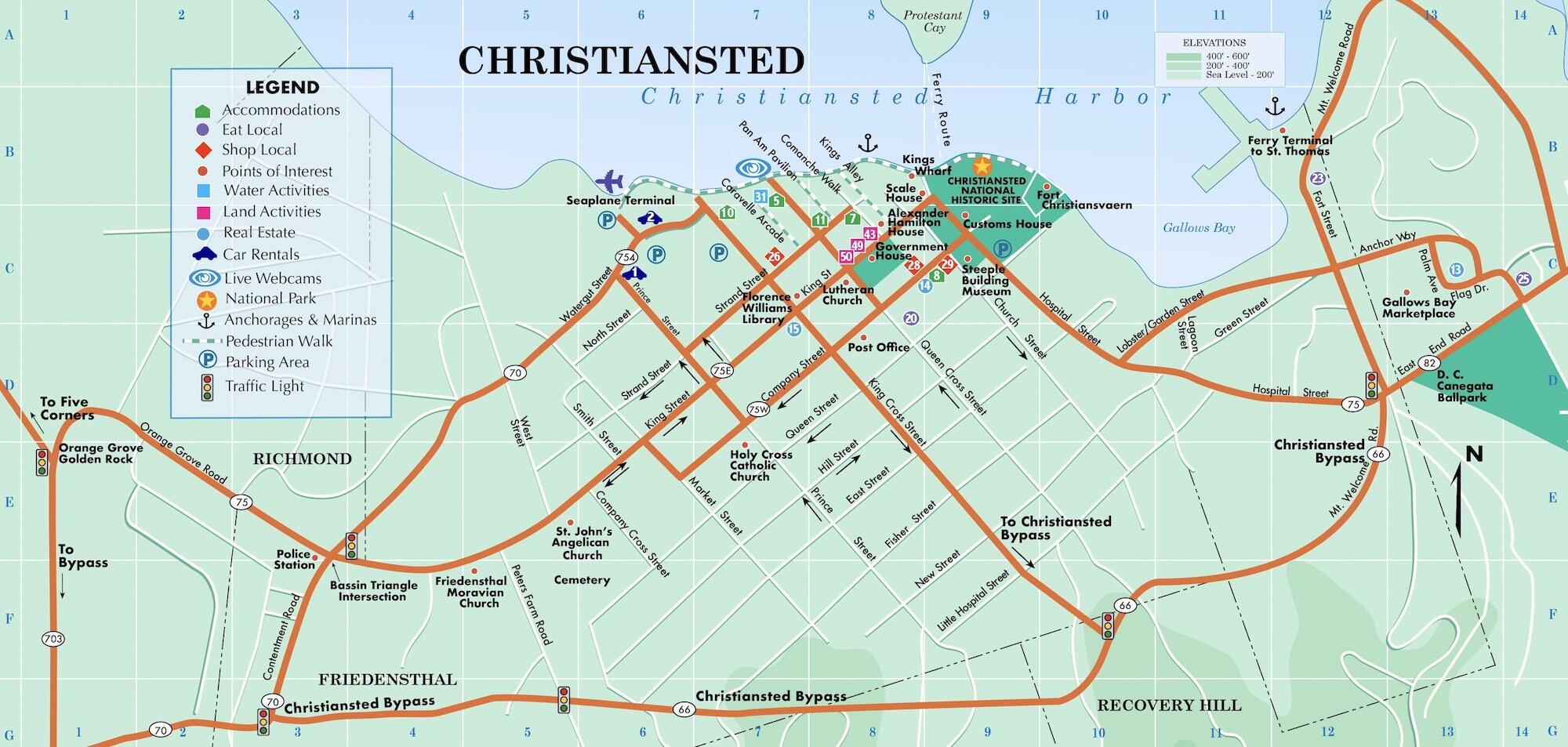 Follow our Christiansted map for this historic walking tour.
Begin a tour of historic Christiansted at Fort Christiansvaern, which was built by the Danish in 1749 and is complete with dungeons and cannons (although it never saw battle). Across D. Hamilton Jackson Park is the Old Danish Customs House and Post Office, built in 1751 and converted to the Christiansted Library in 1926.
Around the corner on Company Street is the current U.S. Post Office and Customs House, originally the West Indies & Guinea Company Warehouse. Slave auctions used to be held in the courtyard here. The Steeple Building is across the street. Formerly the Lutheran Church, it is now the National Park Service Museum with displays of St. Croix's history from the time of the Indians. A short distance up Company Street is Apothecary Hall, an 18th century pharmacy now housing offices and shops. Just off Company, on Queen Cross Street, is the Visitors Bureau, a source of helpful information. Continue along Company to Market Place, especially colorful on Saturday mornings.
At the corner of King Cross Street turn right and walk one block to King Street. On the far corner you'll see the Florence Williams Library, built of Flensborg brick, which was used by the Danes as ballast. Turn right on King Street to the Lord God of Sabaoth Lutheran Church, built in the 1740s. The floor tiles and grave markers were moved from the former Lutheran Church. The Gothic Revival tower was added in 1831 to the Dutch Renaissance main structure.
Continue north on King Street to Government House on the right, open to the public and worth a visit. This served as residence for Governors of the Danish West Indies and offices of the colonial government. The Baroque central wing was built in 1747 as a private residence. It was purchased as the Governor's residence in 1771, and was expanded to include the planter's residence to the west in 1828 and the eastern porch in the 1830s. A row of arcaded buildings across the street includes the Alexander Hamilton House.
End your tour in the center of Wharf Square at the Scale House or Old Custom House, built in 1856 to weigh and inspect imports and exports passing through this thriving port. The old scales are still there.